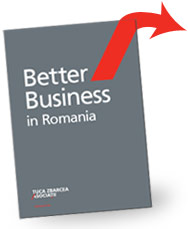 1. Introduction
2. Corporate
3. Real Estate
4. Creditor & Debtor Disputes
5. Employment
6. Public Procurement, Utilities Procurement, Concessions & Public-Private Partnerships
7. Competition
8. Energy
9. Capital Market
10. Financial Institutions & Security Interests
11. Intellectual Property
12. Pharmaceuticals
13. Environment
14. Product Liability & Consumer Contracts
15. Insolvency
16. Criminal Law
17. Tax
In previous editions of this booklet, we were welcoming you with enthusiastic presentations of the transformations Romania's economy went through after the fall of Communism, with legitimate hopes flowing from Romania's access onto the EU, with the optimism of the figures measuring foreign investments on the local market and, generally, with the trust that the entire business environment in Romania has all chances of becoming better: as any other emerging market, ours cannot (could not) other than grow…

We all know that today's premises are not the same or, if not yet completely different, are undergoing inevitable changes.

This booklet is made to offer you support in managing the challenges of doing business in a global marketplace, but to also give you solid arguments for a better business development in Romania.