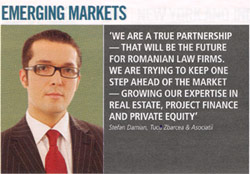 Legal Week's latest report on Independent Law Firms in Europe recognized Ţuca Zbârcea & Asociaţii's "rapid growth" and quotes Ştefan Damian, Deputy Managing Partner, on the current legal market trends and developments:
"Since the turn of the century, Romania has made up major ground on those of its neighbours that gained full membership of the EU in 2004. (…) The effect on the legal market has been not only to increase the volume of work, but also its quality". - Legal Week's reporters
"We are trying to develop expertise in corporate, capital markets, liquidation / corporate recovery and tax and competition law, which will become more mature as the market develops." - Ştefan Damian
"Bucharest is emerging as a hub for operations and investment into the wider region, in particular neighboring Bulgaria, Moldova and Serbia and to a lesser extent to Turkey and other parts of former Yugoslavia." - Legal Week's reporters
"Compared with the dark years of the 1990s, things are very good now. You can literally see things improving on a daily basis." - Ştefan Damian
"For the 50 lawyers at Bucharest's Tuca Zbarcea & Asociatii, the country's imminent accession to the world's largest economic union creates opportunities. (…)
Deputy Managing Partner Ştefan Damian explains: "we aim to be a full service firm just like any big office of a magic circle firm. EU, competition law and tax will be very important. We expect investment will grow significantly after accession – obviously, referrals from international firms will also increase." (…)
Romania's legal scene at the end of 2007 will no doubt look quite different to the way it does today. Fifty-lawyer Tuca could go either way – its rapid growth will have put it within the sights of international firms looking for a Bucharest presence, while each large market can usually support at least three substantial independent firms." - Legal Week's reporters
Independent Law Firms in Europe, a Legal Week annual supplement, has analyzed global trends and developments in the legal market with a focus on Romania as it will become a full member of the EU from 1st of January 2007.