For the second year in a row, Ţuca Zbârcea & Asociaţii has been recognized as the leading law firm in Romania. An independent panel of judges consisting of top representatives of the Romanian business community chose Ţuca Zbârcea & Asociaţii as the winner in the Law Firm of the Year category from a list of 8 international and local law firms.
Florentin Ţuca, Managing Partner noted that "this distinction is testament to the collective efforts of our team to consolidate a law firm that stands for true partnership, professionalism, innovation and dedication. The Annual Investment Awards Gala honored the business champions of 2007, the companies and the individuals behind them, and the nomination of Ţuca Zbârcea & Asociaţii alongside top international brands and renowned companies represents an immense privilege".
This prestigious award recognized our firm's involvement in some of the most representative transactions of 2007 and was judged on criteria including business strategy and tangible results, financial performance, innovation and leadership.

The award was handed at Business Review's Annual Investment Awards Gala which took place on March 5th. In its 3rd edition, the event celebrates leading companies and individuals actively investing in Romania and stands for recognizing the achievements of the Romanian business community for the past year. A total of 12 prizes were collected by top international companies, multinationals with active presence in Romania.
... and the winners are:
Ikea - Newcomer Award
Dacia/Renault - Growth Strategy/Expansion Award
Nokia - Greenfield Project/Investment Award
Dacia/Renault - Job Creation Award
Renault R&D - Technology Award/Software and Telecom
Raiffeisen Capital & Investment - Financial Adviser of the Year Award
Ţuca Zbârcea & Asociaţii - Law Firm of the Year Award
Trigranit/Polus Center - Real Estate Investment of the Year Award
Immoeast/S Park - Real Estate Deal of the Year Award
Rompetrol - Deal of the Year Award
Dinu Patriciu, Rompetrol - Businessman of the Year Award

Liliana Solomon, Vodafone - Businesswoman of the Year Award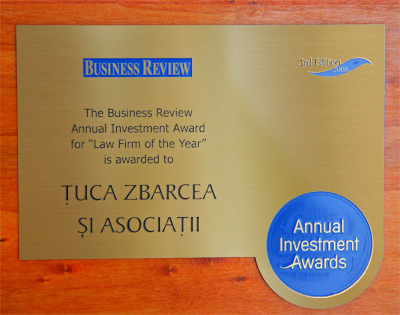 The award rounds off a successful 2007 year for Ţuca Zbârcea & Asociaţii. In May 2007, the firm has received the Law Firm of the Year Award following nominations from top senior officials in the Romanian business community and has been recognized as one of the most innovative law firms in Europe. The firm was the sole independent Romanian law firm to be included in The Financial Times' Innovative Lawyers Report and was ranked 16th in Europe, alongside magic circle firms and other high-calibre international law firms.