Ţuca Zbârcea & Asociaţii tops the M&A league tables for 2007, as evidenced by Ziarul Financiar, Romania's leading business and financial newspaper.

The Top Deals Yearbook released by Ziarul Financiar includes 113 of the most important transactions on the Romanian market over the past year. A total number of 29 law firms, including magic circle law firms such as Linklaters and Clifford Chance, as well as international law firms (CMS Cameron McKenna, Salans, Wolf Theiss, Schoenherr, Gide) and other independent law firms have made it to the top.
Ţuca Zbârcea & Asociaţii ranked 1st and was recognized as the most active transactional law firm in the market. The Top Deals Yearbook's results showed that we have acted on the biggest number of announced and completed M&As for an aggregate deal value worth approximately EUR 1 billion. Speaking about these strong results, Florentin Ţuca, Managing Partner said, "after the EU accession, the country was given a vote of confidence by major foreign investors. The dynamics of the M&A activity in 2007 are testament to the growing opportunities in the market. We are honored to be working with the biggest players, companies such as Erste Bank, ArcelorMittal, OMV Group, Carrefour which kept our lawyers extremely busy for the past year. Our performance is a tribute to our clients and also to our talented M&A team."
Ţuca Zbârcea & Asociaţii is a major player for big-ticket Romanian M&A transactions. Firm's broad expertise in M&A and capital markets areas has received impressive recommendations from IFLR 1000 - the guide to the world's leading financial law firms. As such, for the past 2 consecutive years, the firm has ranked 1st in the M&A and capital markets areas of practice, with editors commenting that our law firm is "one of the most dynamic firms in the Romanian legal market at the moment" and one that "has built a really successful practice".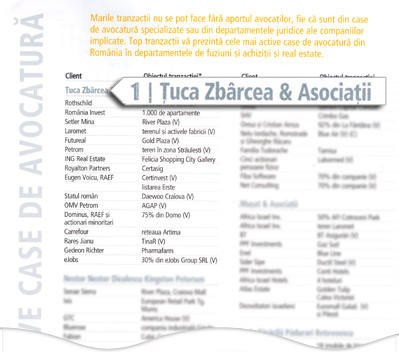 For more information and a brief description of some of the transactions featured in the Top Deals Yearbook, please visit Recent Firm Rankings section.